Time savings thanks to paperless processes
The [admin] module is the program for creating and maintaining work, operating, training or inspection instructions. By connecting a digital camera, it has been proven that time savings of up to 50%, compared to conventional word processing programs, can be achieved. The module is also used to configure the switching conditions for connected sensors.
Included functions are:
Connection of a system camera via USB for fast direct access to photos, connection of commercially available compact cameras (removable media via USB)
Inserting screenshots
Loading images from a directory
Integrated image editor, for efficient post-processing of photos
Version management of work instructions with history
Creating the instructions in a clear tree structure
Integrated text wizard for standardized expressions
User recognition for the creation and release of work instructions for variants
Create and manage articles
Create templates for standardized work steps
Allocation of target times
Configurable direct printout of work instructions on paper or output as PDF
Manual parts list import in CSV file format
Material assignment from the parts list to the respective work step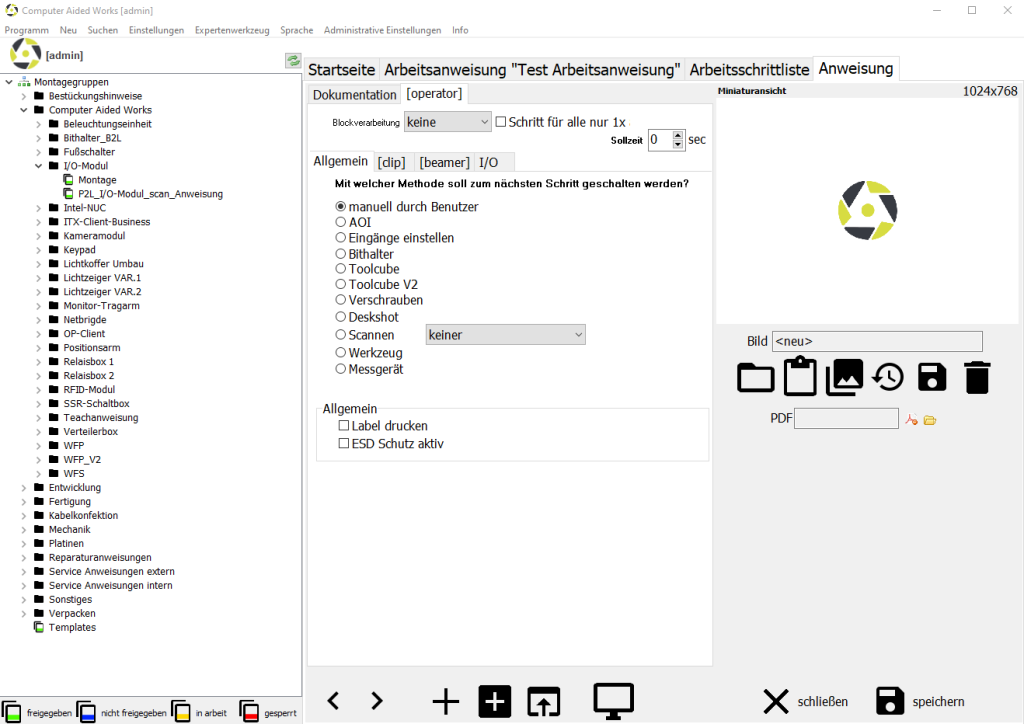 The program can be extended with the following functions:
[backend]
All software modules and their functional extensions require the base module [backend], consisting of MySQL database, web server and FTP server. All clients or hardware components for worker management access the common database. All recorded process data, as well as all created work or test instructions are stored here and can be accessed from any workstation via a client.
[branch]
Work instructions created in the [admin] module are stored in the module [branch] loaded. Subsequently, the conditions in the module are defined when which work instruction is included in the individual overall work instruction. This is implemented using a device configuration code or a material parts list. Furthermore, it can be defined at which workstation the respective partial instruction is to be produced.
[erp]
The interface module [erp] connects the basic module [backend] with the company's existing EDP structure. CSV files are used to exchange master data between an ERP system and Computer Aided Works. The connection usually requires a company-specific parameterization of the interface.
[webreport]
A web-based evaluation of the worker management (output/CSV export of the collected data via web interface). An evaluation can be created using the following key figures, among others:
– Personnel code
– Period
– Article family
– Order numbers
– Article
– Workplace
– Work instruction
[joborder]
With the help of the interface module [joborder] complete orders can be processed and managed. Therefore, batch numbers recorded during assembly (e.g. of bulk material) can also be assigned to the current order, enabling order-related traceability in the [webreport] module. This module also parameterizes the necessary adaptation to the order structure and processing already existing in the company.